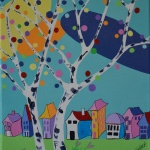 Hello again. Despite many of us clinging to 'all that is summer', fall is in the air. I love fall. I love the colours, I love the blue skies, and I love the cool air. I love the angle of the sun, the long shadows and that fleeting feeling that these precious moments won't last. That feeling reminds me of Robert Frost's poem:
Nature's first green is gold,
Her hardest hue to hold.
Her early leaf's a flower,
But only so an hour.
The leaf subsides to leaf.
So Eden sank to grief,
So dawn goes down to day.
Nothing gold can stay.
Fall is also a time for giving thanks. Families celebrate the great autumn feast. Also, in Canada there are numerous fund raising events, walks, runs and auctions supporting worthwhile causes: likely because of the fleeting days of hospitable weather. Autumn also brings art shows and I am usually very busy readying for the fall art shows and artsy charitable events.
This week, I want to give a shout out to my favourite Calgary charity: Helping Families Handle Cancer. Every autumn this charity has its gala art show and fund raising event. This event showcases donations by tremendous local artists and generates funds for a tiny but mighty group, lead by Carie Stock. This group assists local families during devastating times: when their children are fighting cancer. Although there are many sad stories, this charity is fun, upbeat and full of promise. As an artist, I'm proud to play a tiny role in this herculean effort by Helping Families. The event is this Friday: October 3. Check their website for details…it's nearly sold out, so hurry. I have a few pieces at the show and the painting displayed was donated and rumor has it, that it's sold already…items go quickly.
Like the poem says, Nothing gold can stay. Our treasures, money, gold and gifts can't stay, so we may as well share them.
This month, I challenge you to give to a good cause. Share your skills, time or resources. You'll get back more than you give. It feels great!